Windows 7 RC now available
Windows 7 Release Candidate (RC) is now available for testing.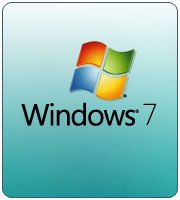 Here are some tips and information before you download it:
- The RC release will be available at least through June 2009 and Microsoft is not limiting the number of product
- The RC will expire on June 1, 2010. Starting on March 1, 2010, your PC will begin shutting down every two hours. Windows will notify you two weeks before the bi-hourly shutdowns start. To avoid interruption, you'll need to install a non-expired version of Windows before March 1, 2010. You'll also need to install the programs and data that you want to use.
- Be sure to back up your data and please don't test Windows 7 RC on your primary home or business PC.
- Be sure turn on automatic updates in Windows Update in case Microsoft publish updates for the RC.
Minimum configuration (for now):
A PC with these minimum recommended specifications:
-
1 GHz 32-bit or 64-bit processor or higher
- 1 GB of system memory or more
- 16 GB of available disk space
- Support for DirectX 9 graphics with 128 MB memory (to enable the Aero theme)
- DVD-R/W Drive
Source:
Microsoft Press Release
Download it at:
Microsoft Windows 7 RC page