SAMSUNG Unveils YouTube™ Camcorder
Samsung Electronics today unveiled the SMX-F34, the company's next generation YouTube™ compatible compact digital camcorder.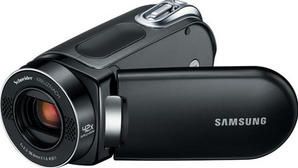 The SMX-F34 is the ideal camcorder for the YouTube™ videographer who shares their content with friends and family by uploading video to the Web. Featuring a Web & Mobile shooting mode, users can set the SMX-F34 to record in the exact format and resolution required by YouTube™, resulting in faster upload times. By selecting the Web & Mobile mode, the camcorder's resolution is automatically adjusted to 640x480 (H.264 / AAC / MP4) and optimized for use on Web sites. Furthermore, unlike other camcorders, users can easily import video from the SMX-F34 and play it on MP3 players and other portable multimedia players supporting H.264, without having to convert the files.
The SMX-F34 will be available in four colors, including Midnight Black, Sunset Red, Galaxy Silver, and Deep Ocean Blue, all with silver trim, and will feature Samsung's exclusive swivel hand-grip, which effortlessly adjusts for regular and low angle shooting.
The SMX-F34 will be available Spring 2008.
Source:
Samsung Press Release