Nokia to unveil the 7510 (T-Mobile)
Unique Xpress-On covers, external "hidden until lit" display and new user interface
Allow for a higher level of personalization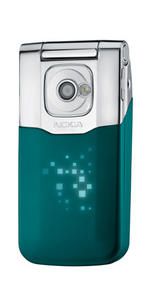 Today at the 2009 Consumer Electronics Show in Las Vegas, the Nokia 7510 was unveiled and T-Mobile USA, Inc. was announced as the exclusive carrier for the U.S. launch of the stylish device.
The Nokia 7510 comes ready for style with charming lights and an external display that stays hidden until needed to show information such as caller ID or a song title. These lights also provide a sensational pattern for anyone who sees them light up. The Nokia 7510 is a Series 40 device that can be quickly flipped open with the push of a button.
Featuring a new, easy-to-use graphics interface, the Nokia 7510 will allow T-Mobile® customers to quickly scroll and identify the various menus including messaging, address book, music player and more. The Nokia 7510 also allows for UMA connectivity - allowing flexibility between using the cellular and Wi-Fi networks for calls.
"
Nokia's wide range of devices includes several that add fashion to function and allow consumers to choose the best device that expresses their personality. With the unique style of the Nokia 7510, users are allowed to express themselves with colors and external display,
" said Frank Vium, Vice President, Sales, Nokia.
"
The Nokia 7510 will be a great addition to our lineup because it features changeable faceplates, which means our customers can easily personalize their phone day-to-day,
" said Travis Warren, Director of Device Marketing at T-Mobile USA. "
The unique hidden-until-lit display further illustrates the cool features of the device that our customers are sure to love.
"
Additional features of the Nokia 7510 include:
- Xpress-On front and back covers available in Fatal Red, Espresso Brown and Emerald Green
- Support for POP3 and IMAP4 email accounts
- Digital music player (supports MP3, AAC and AAC+ formats)
- FM radio with Radio Data System (RDS)
- 2 megapixel camera with Nokia Image Perfection System (NIPS), LED flash and 4x digital zoom
- 2.2 inch QVGA display, 240 x 320 display with 16 million colors
- A microSD memory card slot for expandable memory (supports up to 8GB microSD memory card)
- Quadband 850, 900, 1800, 1900 MHz GSM/GPRS/EDGE
- Dimensions: 3.64 x 1.83 x .66 inches (L x W x H), 4.37 ounces
The Nokia 7510 will be available later this month in select T-Mobile retail stores and online at