Avanquest's Advent Calendar 2008!
As every years Avanquest offers Free and promotional offers on softwares they sell.
Based on a Playfull Advent Calendar (From December 1st to Christmas)
You can visit the web site every day and discover a different gift/promotion (by clicking on the star corresponding to current day).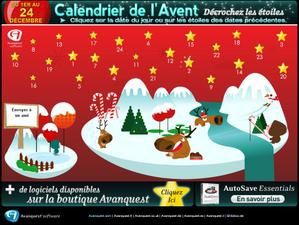 List Updated Every Day:
Day 1 : WebSite X5 Smart Edition (FREE!) - To easily create your own Website
Day 2 : Art Gold 2009 Pack (39€ ONLY!) - 3 Products to discover the Louvre museum and 14 other european museums
Day 3 : Smart PC 4 (FREE!) - To Optimize your PC
Day 4 : Architecte 3D gold (39.99€ ONLY!) - Home design software Gold design edition
Day 5 : ...
Sorry: The web site is in French (need email adresse in order to enter the web site)
Source: Avanquest's Advent Calendar Website