HTC unveils 1st WiMax phone, The Max 4G
After unveiling the first Android (Google) Phone, they now proudly presents the world's first integrated GSM/WiMAX smartphone.
HTC delivers a rich communication experience with the HTC MAX™ 4G, a smartphone created to take full advantage of the broad multimedia and telephony services that network operators can offer.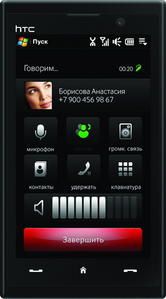 Entertainment in Widescreen:
Get the most out of what your cellular service provider has to offer. Enjoy video on demand and mobile television like you never thought possible on a phone. Download music or electronic books to the spacious 8 GB of onboard memory and enjoy them while you're on the move. For your viewing pleasure, it's all delivered to you on a pixel-packed 3.8" WVGA screen.
Sleek Design and Intuitive Controls:
The first WiMAX mobile phone is elegant and extremely user friendly. The TouchFLO™ 3D responds perfectly to your finger gestures as you scroll through contacts browse the web or launch media.
Choose Your View:
Automatic display rotation helps you get more pleasure from viewing your photo albums or surfing websites. All you have to do is rotate your phone and the built-in G-Sensor transitions the display from portrait to landscape.
VoIP over WiMAX:
The HTC MAX™ 4G is capable of providing both Voice and Video over IP connections while on the WiMAX network. This flexible design is included to ensure you get the high quality telephone and video calls that you desire.
Specifications : HTC MAX™ 4G Specifications
Source: HTC Press Release