HTC Corp. unveiled the HTC Touch HD™
HTC Corporation today unveiled its latest handset, the HTC Touch HD™, an entertainment focused mobile handset running Windows Mobile® 6.1 Professional and integrating a large 3.8 inch wide-screen VGA display (WVGA), a standard 3.5mm audio jack and a 5 megapixel camera with autofocus.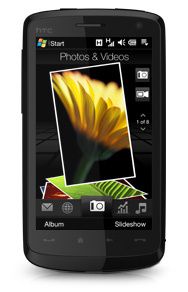 Design and Innovation:
The HTC Touch HD™ combines high performance capabilities with a stylish, sleek design that has made HTC a global leader in mobile phone design and innovation. Its large 3.8 inch WVGA touchscreen offers users stunning clarity and vibrant colours, providing an unrivalled experience when watching movies, browsing the Internet or even scanning through photos taken with the 5 megapixel auto focus camera.
The stylish new device also features HTC's TouchFLO™ 3D user interface to provide quick and intuitive access to the people, messages and content that are most important. A standard 3.5mm headphone jack has also been designed-in, allowing consumers to use their preferred headphones with the device for the best possible sound quality.
Getting the most out of the Internet:
The large high resolution, widescreen display combined with download speeds faster than standard 3G, enables the HTC Touch HD™ to render websites quickly and in full-page width.
No compromise:
The HTC Touch HD™ has been conceived for both business and consumer users alike, who demand style and performance and do not think the two are mutually exclusive. The HTC Touch HD™ is the ideal handset for people who are embracing the mobile multimedia shift but who do not wish to forgo quality, simply by being on the move.
Availability & Suggested Retail Price:
See HTC website for more details
Specifications : HTC Touch HD™ Specifications
Source: HTC Press Release