Website? Just do it... with Rombla (Beta)
Rombla (by Piria Inc.) is a visual website builder powerful enough for designers and easy enough for small businesses to use.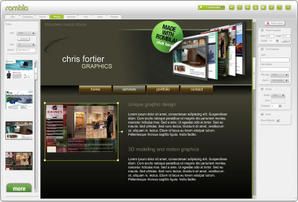 Rombla has a distinct advantage over current online Flash builders thanks to our innovative and unique use of the
Adobe Flex 3 framework
. Rombla does not simply load compiled flash objects onto a canvas and move them around as many other products do.
Rombla is a native Flex MXML and CSS interpreter that loads and manages Flex source code in memory
. This allows us to provide the designer with a graphical interface to the same powerful style capabilities normally only available to a developer using Adobe Flex builder. While Rombla already provides advanced style control, this architecture will allow us to dramatically expand these capabilities in the future.
Piria will incorporate many social networking capabilities into Rombla during Q1 2009 before you see them as a standalone product.
Good news:
Rombla is FREE during Beta
. Piria will announce the price before commercial release as they want to gather some inputs from the community during beta that will help set their pricing strategy.
Source:
Rombla Press Release