BlackBerry Takes the World by Storm
Verizon Wireless, Vodafone Group and Research In Motion (RIM) today announced that the BlackBerry® Storm™ will be available later this fall, exclusively to Verizon Wireless customers in the U.S. and Vodafone customers in Europe, India, Australia and New Zealand.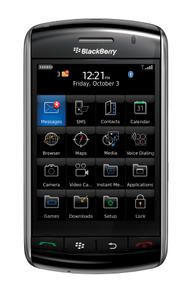 Designed to satisfy the needs of both consumers and business customers, the BlackBerry Storm smartphone combines the powerful communications features, global connectivity and personal productivity advantages of the BlackBerry® platform with a revolutionary touch-screen technology that dramatically enhances the touch interface and enables easy and precise typing. The world's first "clickable" touch-screen responds much like a physical keyboard and also supports single-touch, multi-touch and gestures for intuitive and efficient application navigation.
In the U.S., Verizon Wireless customers will benefit from Verizon Wireless' reliable high-speed 3G Evolution-Data Optimized (EV-DO) Revision A (Rev. A) network.
In Europe, India, Australia and New Zealand, Vodafone will support customers with its high-speed 3G mobile broadband networks.

Packed with Additional Features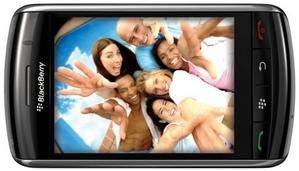 The BlackBerry Storm smartphone, available from Verizon Wireless and Vodafone, also includes the following features and functions:
BlackBerry® Internet Service, BlackBerry® Unite!, BlackBerry® Professional Software and BlackBerry® Enterprise Server support
Preloaded DataViz® Documents to Go® allows users to edit Microsoft® Word, Excel and PowerPoint files directly on the handset
3.2 megapixel camera with variable zoom, auto focus and a powerful flash that also provides continuous lighting when recording video
Built-in GPS supports location-based applications and services, as well as geotagging of photos
1 GB of onboard memory storage and a microSD™/SDHD memory card slot that supports up to 16 GB of additional storage
Media player that can play movies smoothly in full-screen mode, display pictures and slideshows quickly and manage an entire music collection; playlists can be created directly on the handset and there's an equalizer with 11 preset filters – including "Lounge," "Jazz" and "Hip Hop" – for customized audio ranges when using wired headphones or external speakers
A 3.5 mm stereo headset jack, support for Bluetooth® stereo audio profile (A2DP/AVRCP) and dedicated volume controls
Sleek, elegant design with contoured corners, stainless steel back and chrome accents surrounding its large (3.25") glass lens; its exceptional 480 x 360 resolution at 184 ppi is crisp and bright with eye-pleasing clarity
An ambient light sensor that automatically adjusts backlighting for ideal screen viewing and an accelerometer that allows customers to view applications in either portrait or landscape mode by simply rotating the handset
Removable and rechargeable 1400 mAhr battery that provides approximately six hours of talk time on 3G networks and 15 days of standby time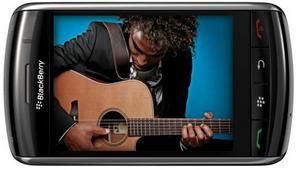 Additional details related to availability and pricing will be announced in the coming weeks. To learn more or register to be notified when the BlackBerry Storm is available, visit www.blackberry.com/storm, www.verizonwireless.com/storm or www.vodafone.co.uk/storm.